'Cause old is gold.
The year is brand new and needless to say, we're looking out for #AllThingsNew to brighten up our wardrobe this year too! But, if we say that can happen without spending hefty at shopping malls and online stores, would you believe us? Well, you must. StyleCracker's stylists dole out ten hacks to revamp your old, boring, mundane wardrobe!
TEE TO TANK
Pick up a pair of scissors and some instructions before starting. And then? Simply transform your T-shirt to a Tank top instead.
SPARKLE YOUR SWEATER
Bring your childhood decorative supplies back! Using those gems and sequins, give second life to your usual, mundane sweaters.
OLD JEANS TO RIPPED JEANS
Why spend your bucks on a pair of ripped jeans when you can rip them on your own and by recycling your old pair? Plus, stay on point with your fashion A-game. Pick some basic stationery and get DIYing!
OR OLD DENIMS TO DENIM SHORTS
Want to get rid of your faded denims? Hold yourself back from trashing it and pick up a pair of scissors. Snip them to a length you like and that's it! And now you have a new pair of denim shorts!
LACE UP OLD SHORTS OR SKIRTS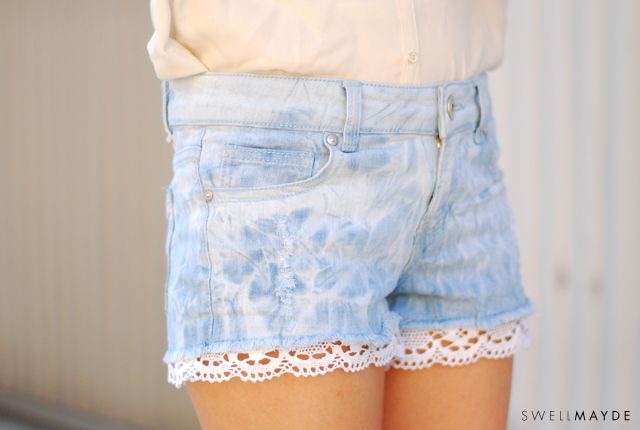 If the loose threads of your DIY shorts bother the fashion police inside you, bring some lace into the game! Stitch a layer down at the hem and you're good to go.
UNUSED LEGGINGS INTO A CROP TOP
Fold the leggings, coinciding the seams carefully. Take a pair of your sharp stationery and cut out the crotch of the leggings. Unfold it and guess what you just made? A new crop top!
FABRIC DYE
Any dull or faded piece unflattering your closet? Colour them up with the easy fabric dye options!
DYE THE DENIM
Talking about dye, we can't leave behind the denims too!
DIY SEQUINS AND GLITTER
Add instant sparkle to an old outfit that doesn't appeal to you as much anymore. A hot glue, some sequins, glitter and just get your creativity working!
HIDE DEFECTS WITH PATCHWORK
When there's a defect, there's a patch! Cut out patches of outfits that you wish to throw out, and stitch them up on the shoulders of an old or defected denim jacket or a full-sleeved top!
_
IMAGE COURTESY:
(astitchtoscratch, Swellmayde, OnCampus, The Idle Man)
Comments
Comments