Raise your hand if you are desperately missing your girlfriends right now. A virtual chat doesn't even come close to the hours we've spent hanging out with our girls; it's true we never run out of things to talk about. 
From missing lectures together in college, to the first heartbreak, through weddings and babies and work successes and failures, a zillion holidays – the list is endless; life without my girlfriends is truly unimaginable. If you're missing your girls as much as I am, watch these 5 movies and relive those moments all over again. 
Bridesmaids
There is nothing quite like a best friend's wedding, especially if you're on bridesmaid duty. Hilarious and quirky, this movie accurately depicts the craziness of planning a wedding  and how much you need your bestie around to keep you sane. 

Queen
Lisa Haydon and Kangana Ranaut's characters seem super unlikely to be best friends on the surface. Through the movie though, their heart-warming friendship, where Vijaylakshmi helps Rani come into her own, shows us you can find your best girlfriends in the unlikeliest of places. 

Sex and the City
The mother of all female friendships, SATC defined what it meant to truly have girlfriends who are your soulmates. They stuck by each other from being 20 somethings looking for love, to 50 somethings dealing with babies, broken marriages, career upheavals and menopause, showing us that you can get through everything in life. All you need are your best girls (and a few cosmos).
Crazy Rich Asians
I love Crazy Rich Asians for so many reasons (Henry Golding being one of them), but the friendship between Rachel (Constance Wu) and Peik Lin (Awkwafina) made it supremely adorable . Who can relate to the scene where Peik Lin is trying to convince Rachel she needs to go super OTT to impress her boyfriend's family? I know I do! 
Clueless
Cher's closet was every girl's dream in the '90s. From the plaid skirts to the Calvin Klein slip dresses, it made everyone want to dress like her but the friendship between Cher, Dionne and Tai is what our teenage years are all about. Whether it's Cher giving Tai a makeover or Dionne "accidentally" driving on to the freeway, these are moments that each one of us has definitely experienced.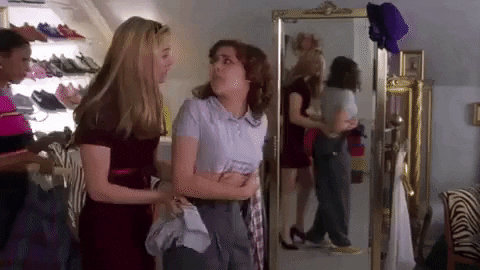 To quote Cher, "She's my friend, because we both know what it's like to have people be jealous of us."
Written by Anchal Khetan
Comments
Comments